A dining room light can be the stuff of nightmares. Crystal or no? Chrome? Oil rubbed bronze? Linen shades? Glass shades? Tuscan? and it goes on and on. I always loved the crystal chandelier in the dining room. It has rows and rows of crystals, little metal flowers and other embellishments. It is not a heavy crystal chandelier - it feels very light and lacy. But it is gold and brass and dated. And dusty!
Stripped and ready for a complete overhaul!
I found many chandeliers that I would LOVE to have in my dining room, such as...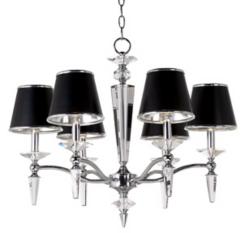 But they also have hefty pricetags. So I am going to attempt a chandelier makeover. The light has been stripped of everything and I took lots of pictures so I can put it back together like it was. :-)

I bought new white socket covers and Krylon silver chrome spray paint and silver paint rub. This is going to be my project for Sunday. I will take pictures so in case it turns out to be less than a total disaster, I can share the step by step process. I know many have painted brass lights but it is usually black or oil rubbed - a darker color. I have yet to find a chrome/silver spraypaint that shines. They always end up so dull. We shall see! Until tomorrow.....