FINALLY! Mission complete!
So it has been an arduous road but the ridiculous journey regarding the dining room ceiling medallion is finally over! I couldn't be more thrilled!
It all started with the old brass and crystal chandelier that I decided to paint silver. It has yet to be put back together because as I was spray painting the little bow ties and hangers, they broke off and it was a mess. I have decided to order chrome parts and even though I didn't want to pay for them, it will be worth my sanity to not have to paint 100 little gold hangers. I have decided to leave the crystals as the last step so they won't collect dust from all the work still needing to be done.
BEFORE: My Mom's chandelier in brass.
Undressed and ready to be sprayed.
AFTER: Sprayed sliver - decided against the shades.
So, then I was shopping in HOMEGOODS (one of my soft addictions) and I found this gorgeous mirror! I was thinking where I could use it and then LIGHTBULB: dining room ceiling medallion.
L*O*V*E the mirror!
So I purchased it for $25 and found a glass place that could cut a hole into the mirror for about $10. Sweet!
Perfect hole and it didn't crack - YAY!
Then, my impatience got the best of me and I decided not to wait for help and install the medallion myself. BIG MISTAKE! It was almost done when one of the wires came untwisted and it all came crashing down! It wasn't pretty but miraculously, the mirror didn't crack. Can't say the frame fared as well. I just stood on the ladder - stunned. I should have waited!
SERIOUSLY? UGH!
So I decided to salvage it and it wasn't easy but I got it looking pretty close to the way it was. A little repair putty, epoxy, spray paint, shoe polish, etc and it didn't look too bad!
TA DA! Not too shabby!
The supports while the liquid nails dried overnight.
So my sister stopped by and so we put it up about 1 o'clock in the morning - not our most brilliant idea - and I must say I couldn't be happier! I really love it - the way I pictured it in my mind when I first saw it at HomeGoods is pretty much the way it turned out. Little did I know it would be quite the toilsome journey! :-)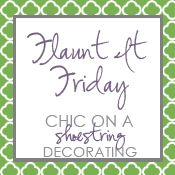 Click here for awesome ideas at Flaunt It Friday!
Click for the awesome Metamorphosis Monday ideas!